Adventures in Ocean Shores 2002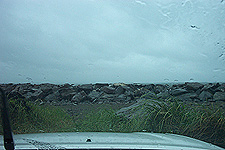 Or: How I Went to the Ocean and Didn't Take a Single Photo of the Beach!
It's kind of a tradition that every summer Carrie and I go out to Ocean Shores, a little tiny tourist town on the west coast of Washington State. This year was no different. The only difference is that I had a digital camera and big dreams of writing an article about the trip for my website! Also, we dragged a couple of friends along who had never seen the Pacific Ocean (they're originally from Florida).
Ocean Shores is just about a two hour drive away. Here's what we did:
The Drive
The drive from Federal Way (where Sandy and Mathaias live) to the ocean is pretty damned spectacular once you get past Olympia. It's all forested and cool, just south of the grand Olympic Mountain Range. Why don't I have any pictures of the lush scenery? Becasue I packed my digital camera in the trunk to keep it safe, of course!
Hotel Check-In
We booked two rooms at the Ocean Shores Quality Inn, because we could get them for about 70 bucks if we didn't want a room with a view. Score! That's pretty cheap for Ocean Shores. The rooms were resplendid in opulance.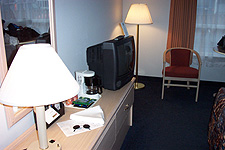 Here's pretty much the whole thing. As you can see, there's a TV, a couple lamps, and a bed. That's Carrie in the background pulling stuff out of our suitcase.
Now that were were actually at Ocean Shores, there are a few things that are traditional. You see, having gone to Ocean Shores once a year for almost my entire life (my family once took a few years off and went to Cannon Beach, Oregon instead), I have the place down to a science. And since it was about 7:00 when we got there, it was time to roll out one of the staples of the Ocean Shores experience:
Dugan's Pizza
In case you can't make it out, the sign reads, "One Bite and we Gotcha!" Despite that rather ominous warning, I have to eat here every single time I come to Ocean Shores.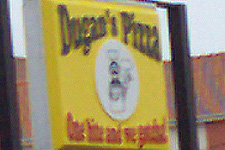 And as you can see, the brilliant mustard/ketchup motif of the building denotes one thing and one thing only: CLASS.
We have to eat here once and only once during every trip to Ocean Shores. Why? I have no idea. It's not all that exceptional of a pizza joint. The pizza's pretty good, don't get me wrong, and the prices are downright decent. But it's a pretty standard place as far as pizza goes.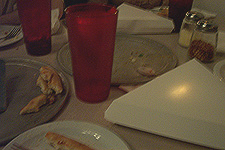 The secret to Dugan's Pizza lies in a small room between the main restaurant and the lounge area (which I have NEVER seen be actually open), just across from the bathrooms: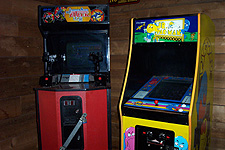 That's right! Dugan's Pizza is one of the few joints left in Western Washington that actually boasts a full-blown arcade room full of games that run the gamut, from the classic Jr. Pacman to Mechanized Attach to the more modern Carn-Evil. There are two games in particular that make me happy in here:
Dugan's Pizza is the only place in the world where I've ever seen Sega's Monaco GP. It's horrible. Like flossing your teeth with steel wires. It's pretty spectacular. And of course we have the inimitable Circus Charlie, one of the most deadly circuses ever conceived. I dropped a few quarters in each, of course. How could I not? You might as well throw a baseball at my head and ask me not to try to dodge it.
I also played a very standard late 1980s overhead-shooter whose name I promptly forgot after I played it. It's kind of the opposite of Time Pilot, in that each level takes you further back in time it seemed. I played an absurdly long time on a single quarter. Dugan's Pizza also has the classic masterpiece AfterBurner. Unfortunatley this standup has a busted flight stick, which made it almost impossible to dodge any missiles and do that cool barrel-roll thing. Too bad. I used to absolutley kick ass at AfterBurner. If anyone has a working Mame rom for AfterBurner, let me know, okay?
Angry Beef aime le beach
After satiating our bellies with pizza (mine had sausage and black olives—of course) we headed back to the hotel with our leftovers. And then as it was getting dark it was time to venture out to that scary, hallowed place known as the beach. But we wouldn't be going alone. Oh, no. We would be taking a very special friend with us.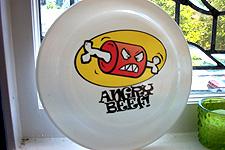 That's right! My Angry Beef frisby, which I had recieved about a week before. Sandy and Mathias, being from Florida, were used to golden beaches and fine, bright, east-coast sand.
In order to get to the actual beach you have to walk through a maze of sand dunes covered in really tall beach grass. Criss-crossing trails have been walked and re-walked through it over the decades. Then finally you break out and can see the mighty Pacific in the distance across a quarter mile of beach. I had warned the Floridians what to expect from Washington State beaches, but they were totally unprepared for the gray, dingy expanse that unfolded before them. I swear, Washington beaches look like the aftermath of a volcano eruption, which is fair to say becuse a lot of the sand is made up of volcano ash from Mt. Saint Helens over the centuries.
But enough geology lessons! You let me ramble, didn't you? Didn't you!? Out came Angry Beef, and as the sun settled (invisibly, behind the clouds) into the Pacific in front of us, we chucked that angry beef around and tried not to get too wet in the near-freezing waters off the coast of Washington. Sandy and Mathias were duly impressed (even though they didn't actually get to see it) that the west coast got to watch the sun set on the water, whereas they grew up watching it rise out of the water.
Having chucked the hunk of pissed-off meat around for a while, we went back to the hotel, cleaned off the dingy sand, and were faced with a great quandry in Ocean Shores: Almost everythign closes at 8:00 p.m., especially on a Thursday night. There was only one thing to do, really.
Shores Bowl
Go bowling. This was a new experience for me, becuase growing up my family never went bowling, and I'm really the only person in my family that enjoys it anyway. Carrie and I never went bowling here before, either. We usually just rented a video and enjoyed a quiet evening in our hotel room.
But Mathias thought this was too good to pass up. So we went into Shores Bowl, the bowling alley which had exactly one person working to run the shoe station, food area, and bar area all by herself. I felt kind of sorry for her. We bowled two games. Here's a picture of Sandy, the only one of us who actually looks like a bowler when bowling: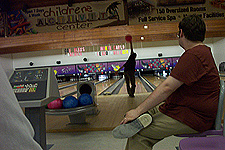 She actually has the run and backswing, and her trailing leg shoots out behind her leading leg just like it should. I, on the other hand, have a very different method. I just kind of saunter up to the line, put my leading leg up to it, swing back, and roll the ball down the middle of the lane. Whenever I try to do it the real way, with the run up and everything, I start to panic about where my feet are going to end up (what if my trailing foot ends up IN FRONT OF my leading foot? Catastrophe!) and end up losing all control of the ball. And my methods seem to work:
In case you can't see, that says my score (on top) is 134, which is just about tied with my personal best of 135, set way back in like sixth grade or something. Long time ago.
On a completely irrelevant note (not that anything in this article is really all that relevant), I had a couple SKYY BLUEs, that new hooch drink that's out. If you like the hooch, I highly recommend it, although it's alchol count is so low that if you want to get smashed you probably want to try something else. I'm doing product placement in my articles and not getting paid for it at all! YES!!
Sleep
Then it was back to the hotel for sleep at last around midnight. I had a pretty horrible dream for some reason, but that's another story. Anyway, yeah, we slept. That's all for this section. Hey, they can't all be instant classics! Onto the next segment!
Morning Swim
Quality Inn of course has an indoor, heated swimming pool. Carrie, Sandy, and I had decided that we were going to go swimming in the mornign before breakfast. Undaunted by the fact that I did not bring a bathing suit, I simply wore a pair of shorts that, due to the crappy weather, I was not going to be able to use as intended.
I hadn't gone swimming since the last time I was in Ocean Shores with Carrie. Boy, am I outta shape. I'd forgotten how hard it is to actually breathe when you're underwater. I'd go out on a limb and say impossible, even.
Continental Breakfast
After showering the chlorine out of my hair and body, it was time to take advantage of the hotel's Continental Breakfast. Like most Continental Breakfasts, it was pretty crappy-ass, but hey: free. Who can complain?
I had an english muffin with jelly, a styrofoam bowl of Frosted Flakes (it was either that or Cheerios), a couple glasses of apple juice, and a half-dozen of the tiniest blueberry muffins that ever I saw. I swear that if I had put a quarter on top of one of them and then looked down from directly above it, I would not have been able to see the muffin under the quarter.
Well, now that we were all washed and fed, it was time for the rest of the traditional Ocean Shores activity. Unfortunately we were severely hindered by one thing: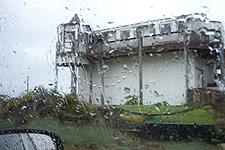 It was raining buckets. When it rains on the northwest coast, it doesn't just squall. It rains for days at a time, constantly. So we were unable to play at the outdoor miniature golf course. Which is too bad, because there's a really neat trick you can do. See, there are actually two courses at the place, side-by-side. You're supposed to choose one and play through it, and then if you want to play the other side you have to shell out more money to get another ball, becuase the last hole in each course is actually a hole that sucks your ball back into the building. But all you have to do is not hit your ball into the last hole, and you can keep on going and play both courses! Dishonest? Damn straight!
And because it was raining so hard, nobody (me included) wanted to trek the half-mile back out to the beach. So that is why, my friends, I went all the way to the Pacific Ocean and came back without a single photo of a beach. Mystery solved! I know you were on the edge of your seat waiting to find out the answer to that one. You can pretend that you didn't care, but I know the truth.
Oh, well. There were still several traditions we could do:
Shops!
Being a tourist town, Ocean Shores is filled with little gift shops and antique stores. There are a few fascinating ones, like this one: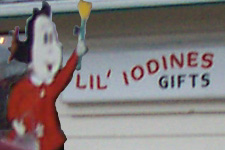 That's right: Lil' Iodine's Gifts. Yes, that is Little Lulu. And no, I don't think that Lil' Iodine has permission from the Little Lulu people to use her likeness. Half of this store is pretty much a regual gift shop. The other half is a 12-month Christmas shop! You know, I love Christmas, and yet there's never anything in this year-round Christmas store that interests me in the least. It's all the genres of Christmas that I dislike, like Victorian era crap. There's no cartoony Christmas stuff!
I was actually suprised by the amount of stuff that I bought. Usually I don't buy anything, but this time I brought home a couple of things that are going to make EXCELLENT articles soon, so watch for that. I can't tell you any more now, because if I do it'll give away the surprise and you won't come visit this site anymore, and I'm so desperate for attention that I need people to look at my website. Nerd.
There is one thing I found that I simply could not resist, and I have a feeling it's gonna become a staple figure here at This is Chris dot com: THE OCEAN SHORES PIRATE!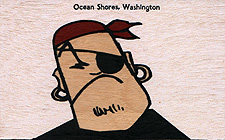 How could I not shell out $1.50 for this face on a postcard-sized piece of wood? How could anyone not look on that face with love and admiration? The Ocean Shores Pirate is my new best friend, proudly stepping up and taking its place among my framed Samurai Jack poster, my coasters with pictures of 1920s Shanghai pinup girls on them, and my non-functional Jigglypuff tape dispenser.
Carrie picked up some cool retro-50s shotglasses and decided that she would start collecting them. I also bought her a laquered wicker tray with a picture of pure sterilized milk on it: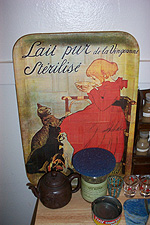 Now that we were loaded up with delightful crap, it was time for another tradition:
The drive to the end of the world
Ocean Shores exists at the end of a peninsula that juts out into the Pacific. Okay, technically it's a peninsula that separates the Pacific Ocean and Gray's Harbor. Here, just take a look at this map before this article becomes a geography lesson. It's already been a geology lesson! What is wrong with you people? Making my perfectly good articles into educational segments! Jeez!
Anyway. For some reason whenever we go to Ocean Shores we feel compelled to drive a couple of miles down the most pothole-filled road in the WORLD to the end of the peninsula. There's just a huge rock wall there behind a small strip of sand which you can climb around on and explore and stuff. When it's not pouring down rain and completely unsafe. It's actually pretty cool when the wind is high, because the rocks break over the rock wall and it's all dramatic and cinematic and whatnot. But it wasn't windy this time. Just raining buckets. So we looked at a wet pile of rocks in front of the soggy pacific.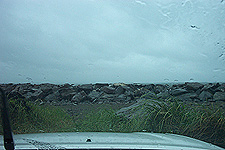 You know, I guess tecnically the small strip of sand barely visibly in this picture could count as beach. So I actually DID take a picture of the beach! Yeah! In your face!
Peppermint Palace
Well, that's about it for Ocean Shores, especially when it's pouring. So we started to head out of town. But on the way out, we just had to make one more (traditional stop):
The Peppermint Palace ice cream shop has an attached arcade. It used to be, like Dugan's Pizza, filled with old-timey games like Moon Patrol. Now all it had was Ms. Pacman. So while everybody else was busy ordering ice cream, I plunked in a quarter and played forever on it. I swear, this was the best I've ever done at Ms. Pacman! I got the high score, and twice got to watch the cinema scene where the baby arrives. I KICKED ASS.
The Peppermint Palace arcade also boasted that new dancing videogame, where the controls are five pads on the floor that you have to jump on in time with the music, kind of like a real-life Parappa the Rapper. What's hilarious about the game is that the music is all Japanese pop songs, with no attempt to subtitle or even translate them.
And that was it. We were finished with our Adventures in Ocean Shores. We drove out of town, past the twin rock towers and wierd little fountain, and were on our way home. But just becuase we weren't in Ocean Shores anymore didn't mean that we were out of traditions! There was just one more to go...
Duffy's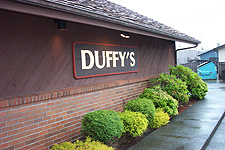 Duffy's is a restaurant in Aberdeen (there's actually two of them in town), a town you have to drive through in order to get to or return from Ocean Shores. I have to eat at a Duffy's AT LEAST ONCE on every trip to the Shores.
Why? Well, how many other restaurants have a prancing little leprechaun on thier roadside sign? Okay, okay, Duffy's isn't really much more than a Denny's type place (actually more like Shari's than Denny's). But for some reason they're one of the only restaurants in Western Washington where I can order my most favorite sandwitch of all time: The Monte Christo.
For those of you who don't know, a Monte Christo is three slices of bread. In between two of them are ham and cheese. On the other side of the middle slice of bread are turkey and cheese. Then the WHOLE sandwitch is taken and french-toasted: dipped in egg and fried. The result is eaten with some jam or jelly and makes me say, "Damn, that's a good sammitch!"
Duffy's is also the only place I've ever been that has Yak as a prominent part of its menu. You can have Yak burgers, steaks, you name it. Basically almost anything beef can be substituted with Yak meat, which tastes a lot like beef.
---
And that was that. Then it was just an hour and a half more and we were back home, exhausted from the inhuman amounts of fun that can only come from a place like Ocean Shores, looking forward like kids at Christmas to our next trip out. Spectacular.
---
Oh, by the way, if you like Angry Beef as much as I do, I wouldn't be AT ALL upset if you were to click HERE and maybe purchase something with Angry Beef emblazoned on it.